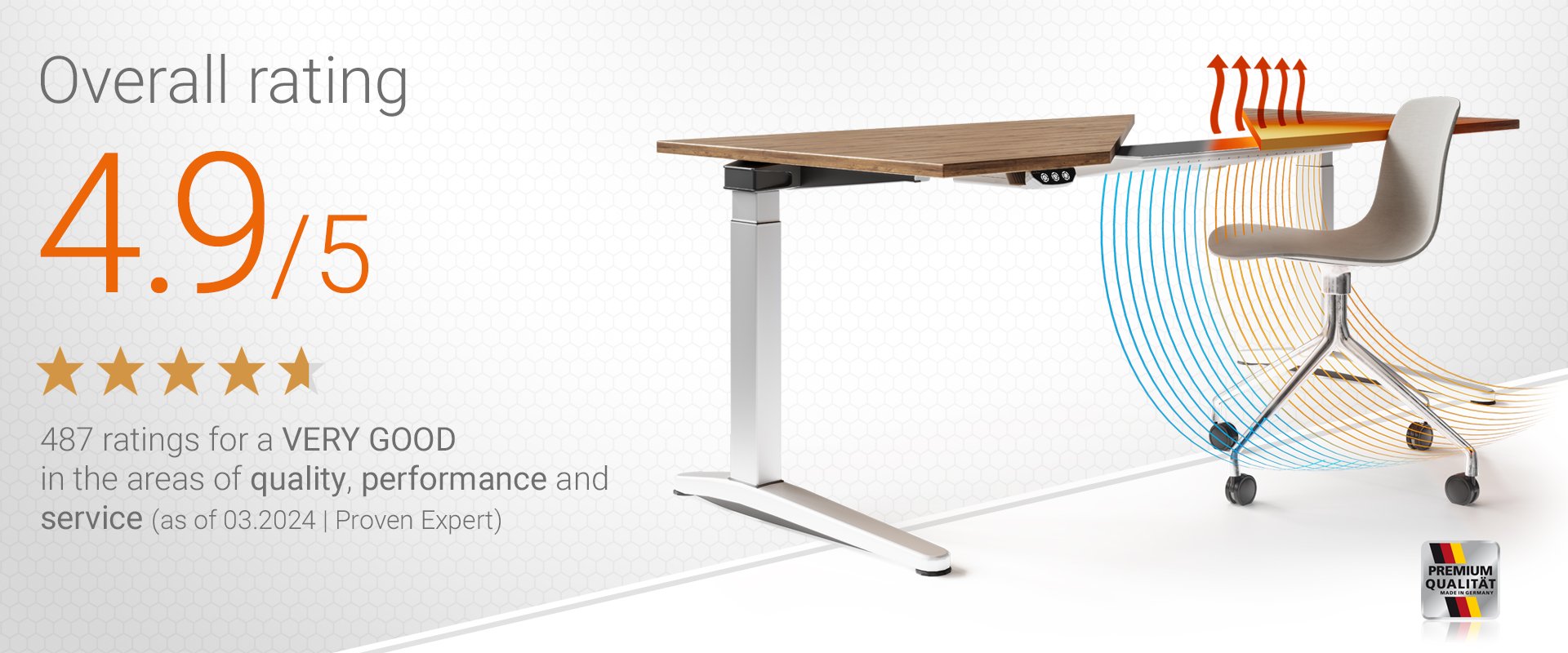 QUALITY
VERY GOOD | 4.9 of 5
---
BENEFITS
VERY GOOD | 4.8 of 5
---
PERFORMANCE
VERY GOOD | 4.8 of 5
---
ADVICE
VERY GOOD | 5 of 5
---
SERVICE
VERY GOOD | 5 of 5
---
PRICE-PERFORMANCE
VERY GOOD | 4.7 of 5
---
---
Handelsvertretung Forgo - Radolfzell (DE)
DeskClimate is the bomb! The slogan 'DeskClimate ON, sweating OFF' sums it up perfectly. Without DeskClimate, we'd have been climbing into the attic this summer. And the same in winter too! Brilliant heat-adjustment options for hands and legs and, even at 19-20°C room temperature, it's amazingly pleasant at every workstation – genuine temperature islands! Finally I'd like to emphasise the simple, self-explanatory set-up – everything you need is included. It's five stars from me, and I'm now a passionate DeskClimater.
Hausverwaltung Budig - VS-Villingen (DE)
We couldn't do without DeskClimate! We're over the moon with our DeskClimate unit and the quick delivery. We found Carbon Heater GmbH's DeskClimate unit while looking for a solution to bring our heating costs down without having to freeze. We got a detailed consultation and were won over when we tried it out. Delivery plus assembly were exactly as agreed. 5* for function, individual advice and reliable service!
Friedr. Freek GmbH - Menden (DE)
We've been using five DeskClimate units in our offices since summer 2022, replacing simple under-desk heating panels. Until recently, we only used the cooling function, which already gave us a noticeable boost in comfort on the many hot days. Now we switch the heating function on, and there's a significant difference compared with the heaters we used before. It gives you a much more consistent feeling of warmth, and your feet warm up much more quickly. DeskClimate costs money, but fewer colds and infections – plus five happy colleagues – are well worth investing in. It's a well-deserved five stars from us.
Strickerchemie GmbH - Garrel (DE)
We have been using 12 units for a few months now and were able to test the cooling and heating functions. The cooling radiates mainly on the thighs and thus pleasantly regulates the body temperature. For us, this is a definite plus point compared to conventional fans. Even at the highest setting, the noise level is not disturbing. The heat function is our clear favourite! The warm air and tabletop heat can be adjusted well. This function is actually in continuous operation for us and we wouldn't want to do without it! The purchase was definitely worth it!
Matratzen Wasserbett Center - Homburg (DE)
Starting with the installation, which was simple and problem-free. As far as handling is concerned, the table-top air conditioner is largely self-explanatory and the controls are pleasantly simple and functional, so full marks for that. As expected, the performance is not sufficient as the sole heater in my place, but it makes my place more comfortable and serves its purpose. The conditions in my shop are certainly quite unique, so they can hardly be considered representative. All in all, I think DeskClimate is good and successful.
Allinaz Korenjak - VS-Schwenningen (DE)
Clear recommendation with ***** stars! I am thrilled, I use the table heater every day! The noise of the fan is not disturbing, the radiated heat is very pleasant. The option to set the required operating time is great. This means that the heater is not used for an unnecessarily long time if you forget to switch it off ;-). The remaining room temperature can thus be reduced and heating costs saved. A sensible investment that can be absolutely recommended.
E. Stegmann GmbH - Bad Dürrheim (DE)
After the test phase, the carbon heaters were installed at several workplaces in our company. The "big winter" is still to come, but so far we are very satisfied, finally no more cold feet. And in fact, the conventional heating in the room can be set lower or even left off completely. Advice, service and installation are also top!
ALPER S.R.L. - Cassola (IT)
The two installations have been applied into an open space for two operators that are sensitive to the cold environment. For the time being we have tested only the heating mode. The effect is really good, we feel the heating coming up from below the desk into the body and in addition the heating of the desk surface gives a perfect comfort for the user. This allows Alper to keep the central air heating system at one or two degrees less with a satisfying energy saving.
Y. Merz Pflege u Mehr - Tuningen (DE)
I have had all 3 workstations equipped with the DeskClimate and am very satisfied. Only the control element does not react immediately to a touch.
HAWA Hans Wagner GmbH - Reichenbach (DE)
We were able to use the table heater to reduce the room temperature from 23°C to 19°C. The perceived warmth is very pleasant. I would never give away DeskClimate again.
Zahnarzt Dr. Stern - VS-Villingen (DE)
We are very (!!!) satisfied with the devices and won't give them away again! On the contrary, we equip all workplaces!
Hausmeisterservice Sigwarth - Donaueschingen (DE)
I am more than satisfied with the air conditioner. It does a very good job and keeps my spirits up - I don't freeze anymore! Super product!