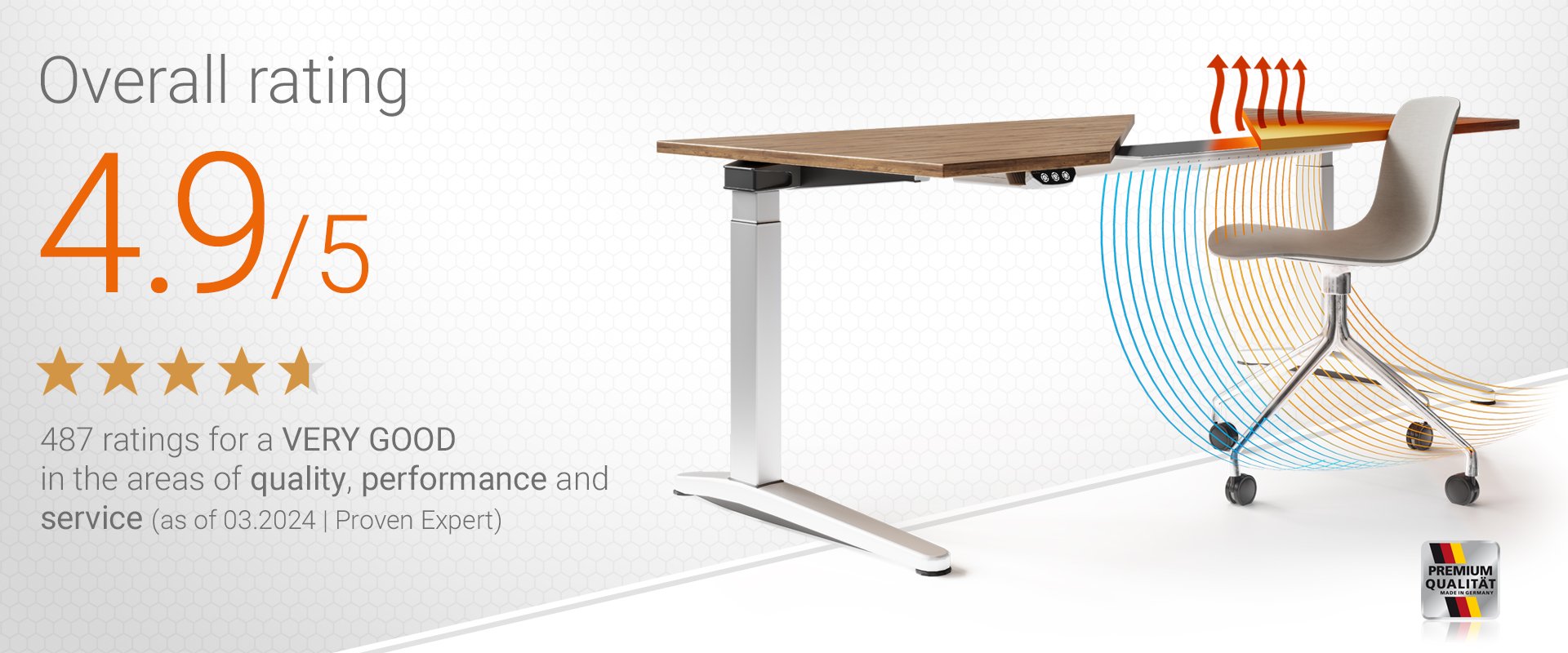 QUALITY
VERY GOOD | 4.9 of 5
---
BENEFITS
VERY GOOD | 4.8 of 5
---
PERFORMANCE
VERY GOOD | 4.8 of 5
---
ADVICE
VERY GOOD | 5 of 5
---
SERVICE
VERY GOOD | 5 of 5
---
PRICE-PERFORMANCE
VERY GOOD | 4.7 of 5
---
---
Commercial agency Forgo - Radolfzell
DeskClimate is the bomb! The slogan 'DeskClimate ON, sweating OFF' sums it up perfectly. Without DeskClimate, we'd have been climbing into the attic this summer. And the same in winter too! Brilliant heat-adjustment options for hands and legs and, even at 19-20°C room temperature, it's amazingly pleasant at every workstation – genuine temperature islands! Finally I'd like to emphasise the simple, self-explanatory set-up – everything you need is included. It's five stars from me, and I'm now a passionate DeskClimater.
Property management Budig - VS-Villingen
We couldn't do without DeskClimate! We're over the moon with our DeskClimate unit and the quick delivery. We found Carbon Heater GmbH's DeskClimate unit while looking for a solution to bring our heating costs down without having to freeze. We got a detailed consultation and were won over when we tried it out. Delivery plus assembly were exactly as agreed. 5* for function, individual advice and reliable service!
Friedr. Freek GmbH - Menden
We've been using five DeskClimate units in our offices since summer 2022, replacing simple under-desk heating panels. Until recently, we only used the cooling function, which already gave us a noticeable boost in comfort on the many hot days. Now we switch the heating function on, and there's a significant difference compared with the heaters we used before. It gives you a much more consistent feeling of warmth, and your feet warm up much more quickly. DeskClimate costs money, but fewer colds and infections – plus five happy colleagues – are well worth investing in. It's a well-deserved five stars from us.
Strickerchemie GmbH - Garrel
Wir haben 12 Geräte bereits seit einigen Monaten im Einsatz und konnten die Kühl- sowie die Wärmefunktion testen. Die Kühlung strahlt überwiegend auf die Oberschenkel und reguliert dadurch angenehm die Körpertemperatur. Für uns ist dies ein definitiver Pluspunkt gegenüber herkömmlicher Ventilatoren. Selbst bei der höchsten Stufe ist der Geräuschpegel nicht störend. Die Wärmefunktion ist unser klarer Favorit! Die Warmluft- und Tischplattenwärme lässt sich gut einstellen. Diese Funktion ist bei uns eigentlich auf Dauerbetrieb und wir würden sie nicht mehr missen wollen! Die Anschaffung hat sich definitiv gelohnt!
Matratzen Wasserbett Center - Homburg
Beginnend bei der Montage, die war einfach und problemlos. Was die Handhabung angeht, ist das Tischklimagerät weitestgehend selbsterklärend und die Steuerung erfreulich einfach und funktional gehalten, dafür volle Punktzahl. Als alleinige Heizung an meinem Platz reicht die Leistung erwartungsgemäß nicht aus, aber sie gestaltet meinen Platz komfortabler und erfüllt ihren Zweck. Die Bedingungen bei mir im Laden sind sicher recht einzigartig, daher kaum als repräsentativ anzusehen. Alles in Allem finde ich TischKlima gut und gelungen.
Allinaz Korenjak - VS-Schwenningen
Klare Empfehlung mit ***** Sterne! Ich bin begeistert, nutze die Tischheizung täglich! Das Geräusch des Gebläses stört nicht, die ausgestrahlte Wärme ist sehr angenehm. Die Möglichkeit zur Einstellung der benötigten Betriebszeit ist super. Dadurch wird die Heizung nicht unnötig lange eingesetzt wenn sie doch mal vergessen wird, abzuschalten ;-). Die übrige Raumtemperatur kann somit reduziert und dadurch Heizkosten gespart werden. Eine sinnvolle Investition die absolut empfohlen werden kann.
E. Stegmann GmbH - Bad Dürrheim
Bei uns in der Firma wurden die Carbon Heater nach der Testphase an mehreren Arbeitsplätzen installiert. Der "große Winter" kommt ja noch, aber bisher sind wir sehr zufrieden, endlich keine kalten Füße mehr. Und tatsächlich kann die konventionelle Heizung im Raum niedriger eingestellt werden oder sogar ganz aus bleiben. Beratung, Service und Installation ebenfalls top!
ALPER S.R.L. - Cassola
The two installations have been applied into an open space for two operators that are sensitive to the cold environment. For the time being we have tested only the heating mode. The effect is really good, we feel the heating coming up from below the desk into the body and in addition the heating of the desk surface gives a perfect comfort for the user. This allows Alper to keep the central air heating system at one or two degrees less with a satisfying energy saving.
Y. Merz Pflege u Mehr - Tuningen
Ich habe alle 3 Arbeitsplätze mit der TischKlima ausstatten lassen und bin sehr zufrieden. Lediglich das Bedienelement reagiert nicht sofort auf eine Berührung.